"An Evening with Tab Benoit's Swampland Jam and the Samantha Fish Band" at The Moon
"An Evening With Tab Benoit's Swampland Jam And
The Samantha Fish Band" @The Moon/Tallahassee
Friday, December 3 – Show 7:15pm – Tickets $32.00-$55.00
(Tallahassee FL) – The Moon presents "An Evening with Tab Benoit's Swampland Jam and the Samantha Fish Band," Friday, December 3 at 7:15pm (Doors 6:30pm). Tickets are priced from $32.00-$55.00. 1105 E. Lafayette St., Tallahassee. Info: (850) 878-6900 or visit http://moonevents.com/.;
  The pairing of two of today's biggest stars in the Blues/Roots community "is like a festival in itself," says Rueben Williams of Thunderbird Management, who manages both Benoit and Fish. 
Tab Benoit's Swampland Jam
One of Summer 2021's great touring ensembles was Tab Benoit's Swampland Jam (pictured above) featuring Louisiana Bayou musical treasures Big Chief Monk Boudreaux, Johnny Sansone, and Waylon Thibodeaux, and Benoit.
    Big Chief Monk Boudreaux (HBO's Treme) incorporates African Rhythms and Mardi Gras Chants into his own original style of Rhythm and Blues. Boudreaux is the Big Chief of the Golden Eagles, a legendary Mardi Gras Indian tribe. He is widely known for his long-time collaboration with Big Chief Bo Dollis in The Wild Magnolias. In 2016, Boudreaux received a National Endowment for the Arts National Heritage Fellowship in Washington, DC.  Johnny Sansone goes deep into Bayou Blues and Zydeco with his roof shaking vocals, harmonica and accordion. Sansone has won numerous awards in the Crescent City, including multiple categories for Offbeat magazine's annual "Best of the Beat" competition.  Waylon Thibodeaux rounds out the Jam on vocals and fiddle. Born in Louisiana's 'Bayou Country' just a few miles southwest of New Orleans, Houma native Waylon Thibodeaux has been dubbed "Louisiana's Rockin Fiddler". His rollicking, Cajun and zydeco rhythms never fail to serve up a good helping of spicy, high-energy Louisiana fun.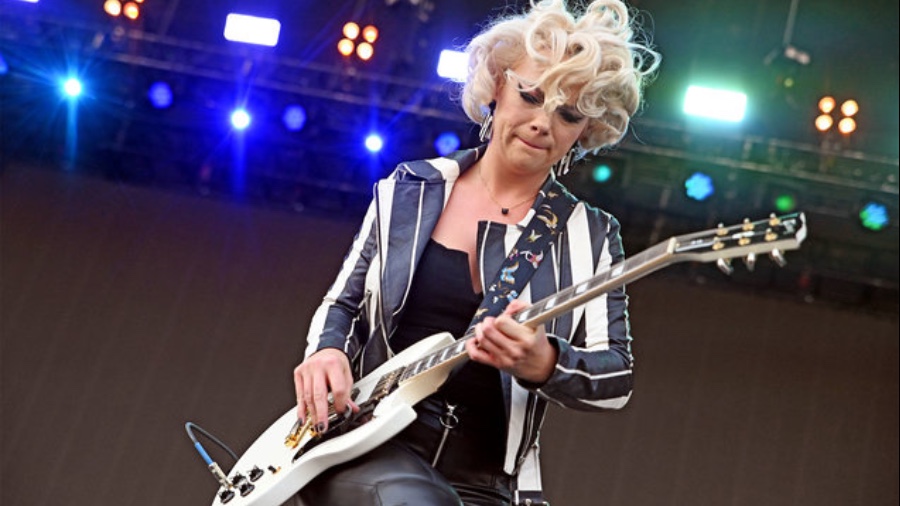 Over the course of her career as an award-winning artist, singer/songwriter/guitarist Samantha Fish has brought extraordinary power to her self-expression, capturing her inner world in combustible riffs, visceral rhythms, and spine-tingling vocal work. On her new album Faster, she joins forces with superproducer Martin Kierszenbaum (Lady Gaga, Sting, Sheryl Crow) and imbues even more intensity into her electrifying brand of blues/rock-and-roll. With Fish accompanied by legendary drummer Josh Freese (Guns N' Roses, Nine Inch Nails, The Replacements) and bassist Diego Navaira of The Last Bandoleros, the result is a singular body of work both irresistibly galvanizing and emotionally raw. Revealing her affinity for North Mississippi blues heroes like R.L. Burnside and wildly inventive iconoclasts like Prince, the album ultimately embodies an unbridled energy true to its emotional core. "The whole record has a theme of taking charge and taking the reins, in a relationship or in life in general," says Fish. "I really thought that after 2020 I'd end up with a really dismal, bleak album, but instead, we came up with something that's fun and sexy and so empowering."
   Benoit and Fish performed together last November at Nashville's famed Ryman Auditorium for a live concert streamed worldwide (they're back together at The Ryman on December 9; full  Benoit/Fish itinerary, below).
Tab Benoit's Swampland Jam – Live From Sony Music Hall – Click To View
TAB BENOIT'S SWAMPLAND JAM WITH SAMANTHA FISH BAND
Dec 2 (Thur) SAENGER THEATER Mobile AL
Dec 3 (Fri) THE MOON Tallahassee FL
Dec 4 (Fri) TAMPA THEATER Tampa FL
Dec 5 (Sun) THRASHER HOME CENTER Orange Park FL
Dec 7 (Tues) NEIGHBORHOOD THEATER Charlotte NC
Dec 8 (Wed) THE EASTERN Atlanta GA
Dec 9 (Thur) RYMAN AUDITORIUM Nashville TN
Dec 10 (Fri) LITTLE ROCK MUSIC HALL Little Rock AR
Dec 11 (Sat)            SAENGER THEATER                       Hattiesburg MS